When it comes to Merchandising, most people think of retail Merchandising only. However wholesale Merchandising is a team that manages products supplied for other companies, not only our brand stores, such as multi-shops and select shops where various brands are mixed in. Among many different accounts, I am in particular in charge of fashion-specialized ones.
What makes you think 'PUMA Korea is different'?
When I joined PUMA I was surprised to realize that there are no fixed seats. Unlike most other companies which assign seats according to the departments and teams in the order of job level, PUMA Korea operates on an open office concept. Except for a couple of departments, employees can choose where they'd like to sit every day. It is sometimes cumbersome, but it's beneficial in general as I feel like my personal freedom is respected.
At PUMA Korea, working time is also flexible. Most staff start their days between 9 and 10 AM, not on fixed time and leave the office accordingly. You can feel free to leave on time or leave early sometimes if needed. This way I can make good use of my personal time.
How do you manage your work-and-life balance?
As the after-work time is guaranteed, you have the luxury to do some extra activities on weekdays. Before the COVID-19, I met with friends often and worked out regularly in the fitness center after work. It has become difficult to do outdoor activities because of the pandemic these days, so I return home early and hang out with friends online.

Sometimes I like to be spontaneous. At PUMA, as long as it doesn't obstruct my work, I can decide to take a day off. In fact, last year I was able to take a week off by putting together all my un-used leave.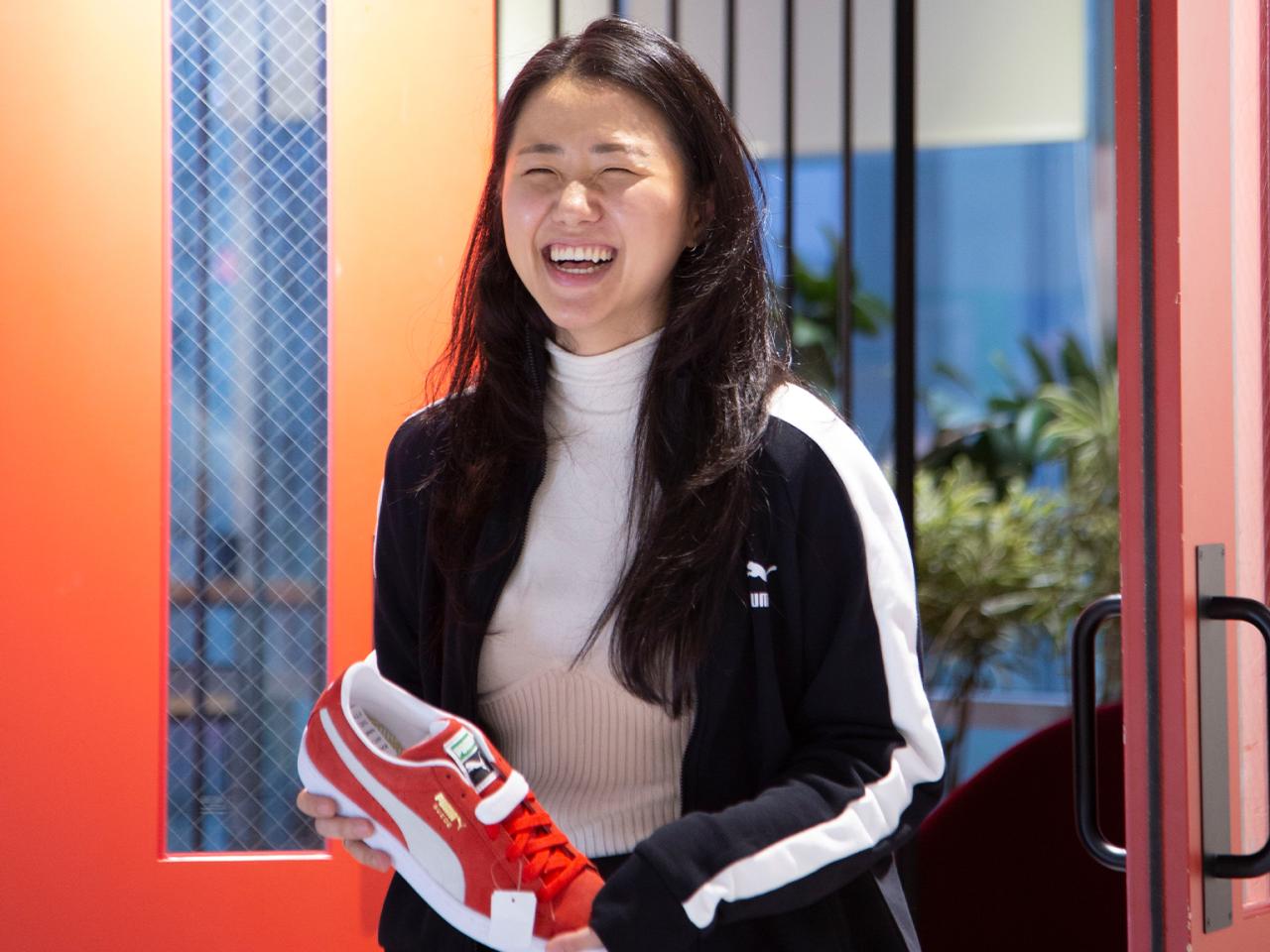 I think the biggest benefit of my work is that I get to see the product faster than anyone else. We prepare for the season about a year ahead. I get to check-out the products that are not available in the market yet. It is not always easy to predict the future trends. It's challenging and that's what keeps it exciting.

As important as it is to focus on what PUMA is doing, it's also important to see what other companies are up to. I often look to the fashion industry for new trends and then share what I find with my team through our internal communication channels.

Although PUMA is a global brand, we also have products produced exclusively for the local market. It is interesting and rewarding to prepare and present those products for the local customers.

Our team has a person assigned to each channel. One for team sports, fashion, and shoe retail so every one is respected and their opinions are well reflected regardless of their rank. We are so
What is your personal goal at PUMA?
As a merchandiser, there is always something more to learn about the products. Ultimately, I want to grow into a person who knows a lot about not only PUMA products but also the industry as a whole like my team leader!