OUR MANTRA FOREVER FASTER DRIVES US TO STAY AHEAD.
THE FUTURE OF SPORTSWEAR DESIGN IS OURS:
TO EXPLORE RELENTLESSLY, PREDICT CONSTANTLY AND TO
INFLUENCE BY BRINGING NEW INNOVATIONS TO ATHLETES.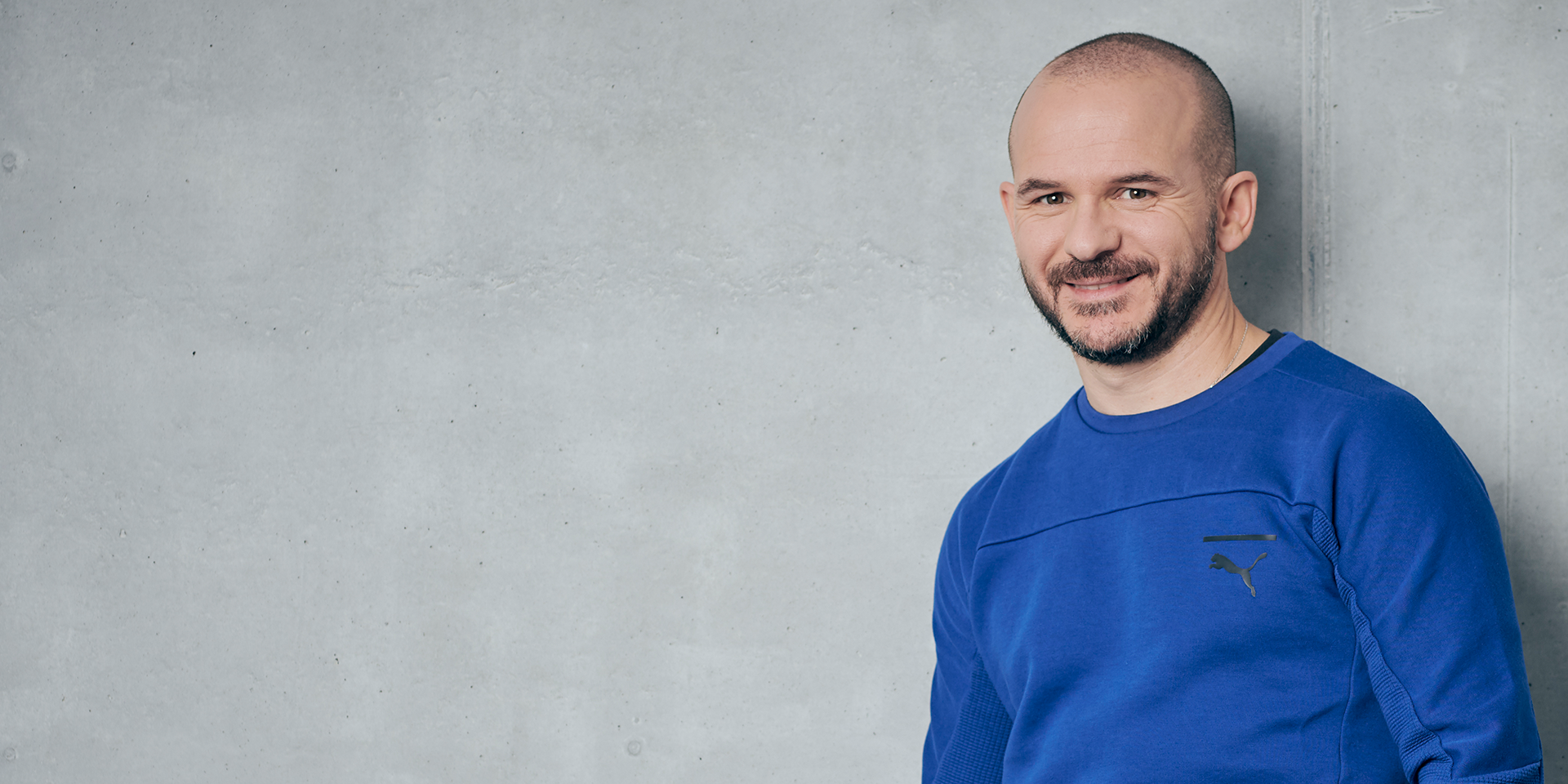 PUMA is a brand that gives voice to people, therefore embracing cultures and opinion. It's a great platform for those who have ideas and passion to share them.
STEFANO FAVARO
, CREATIVE DIRECTOR TEAMSPORT & MOTORSPORT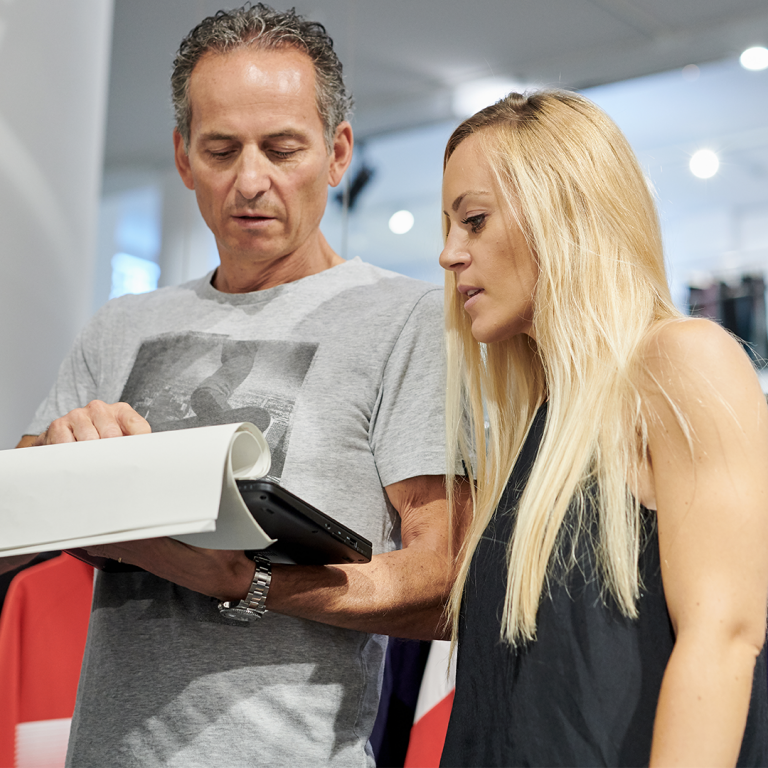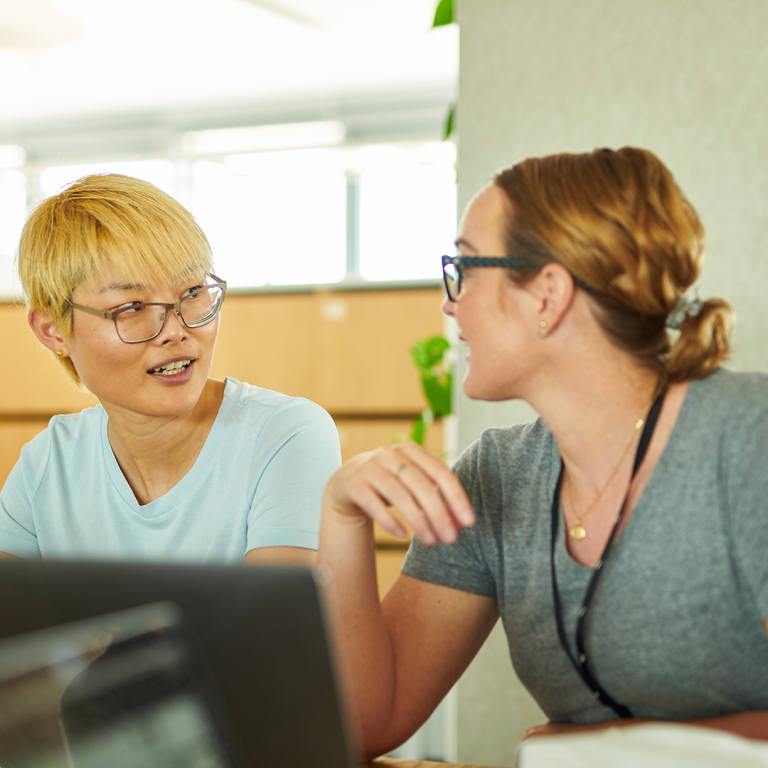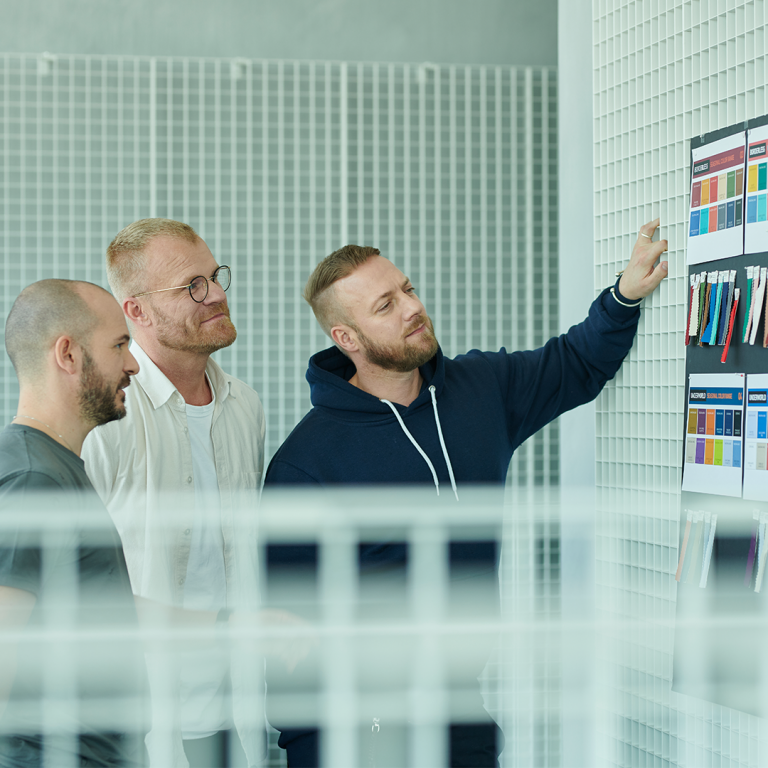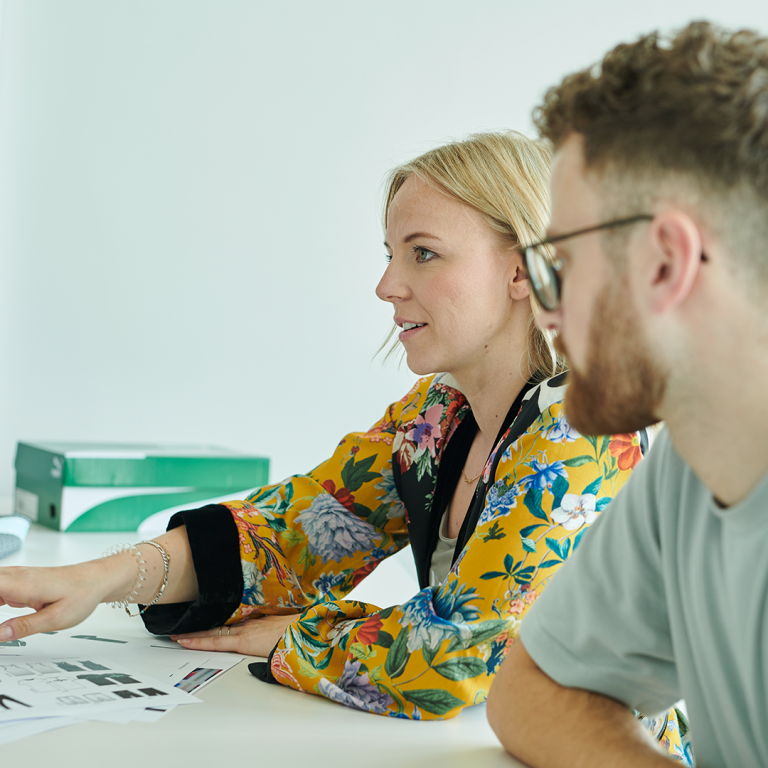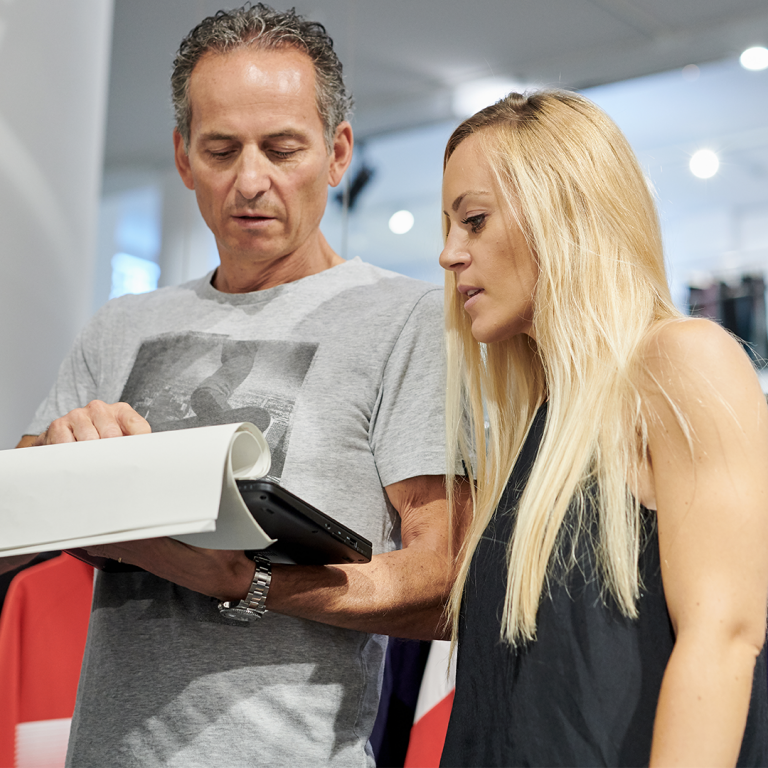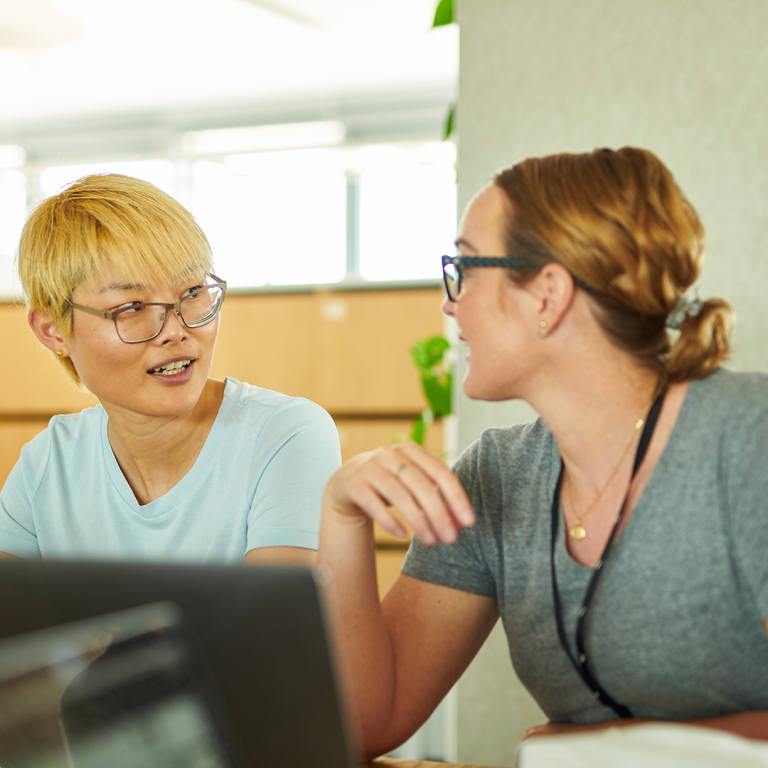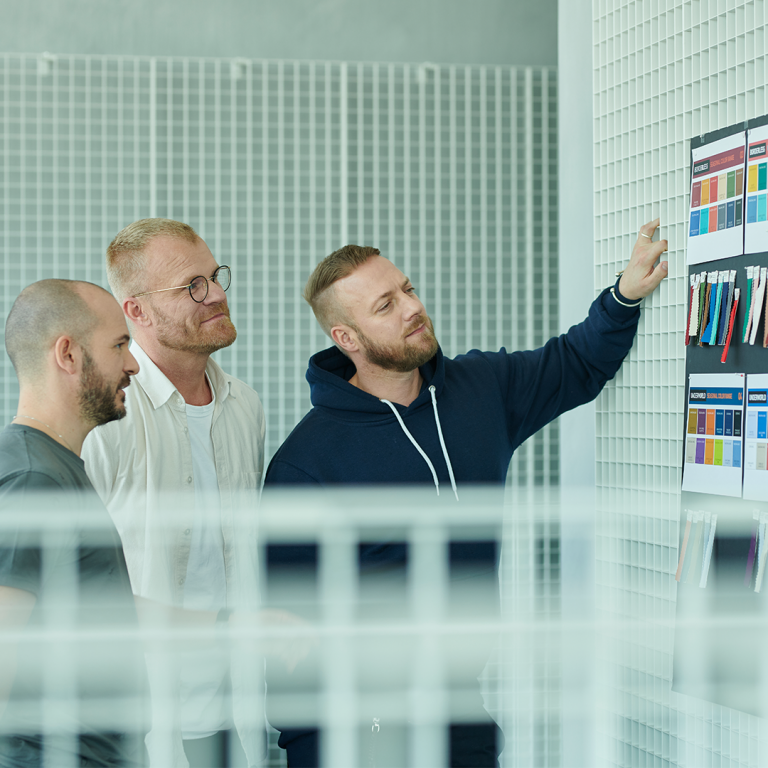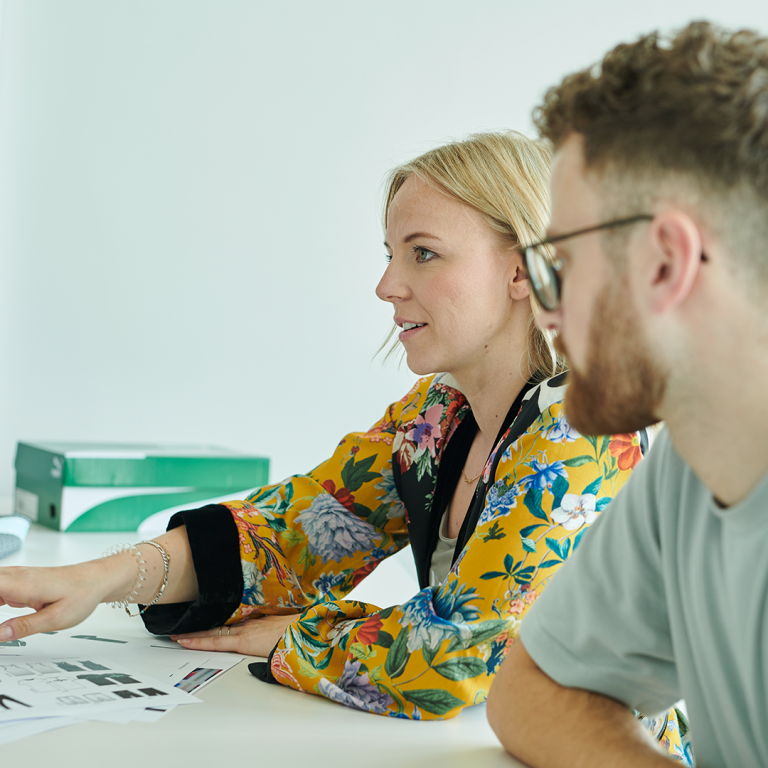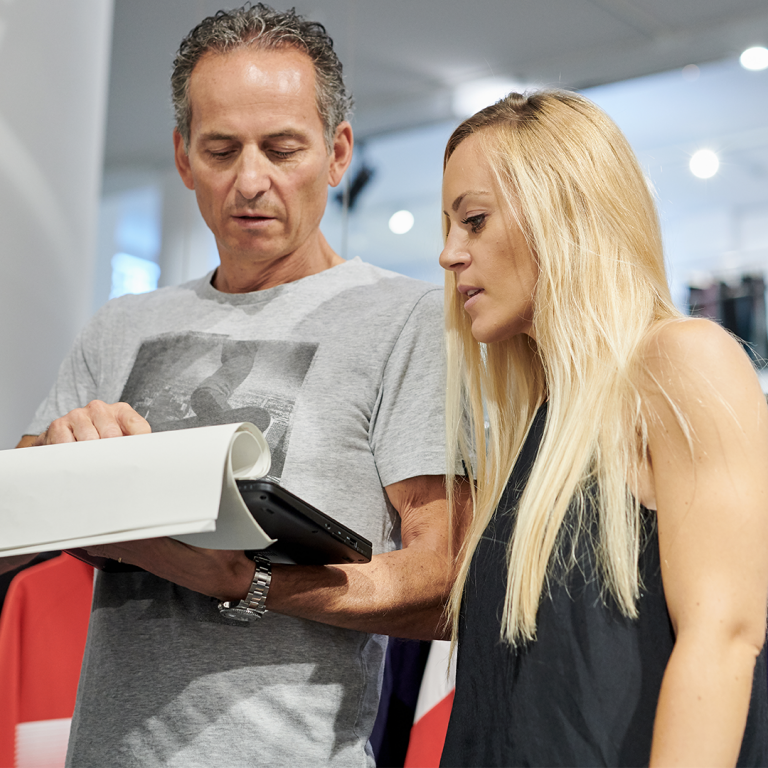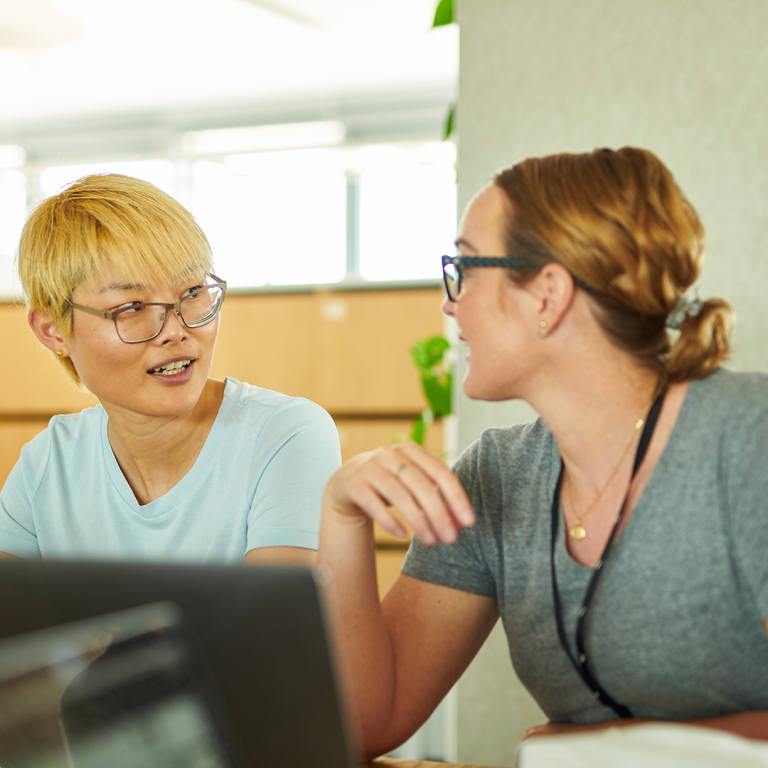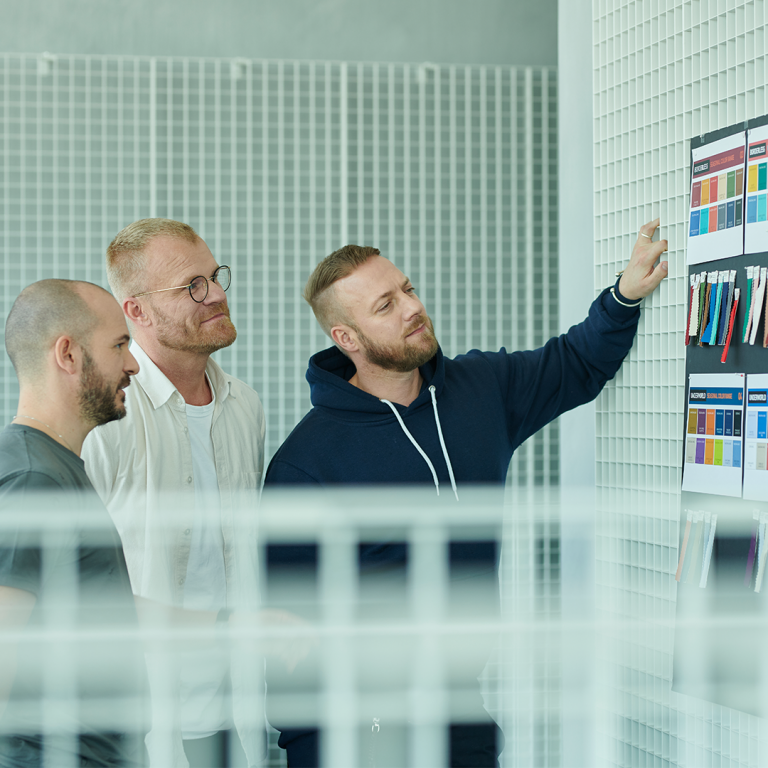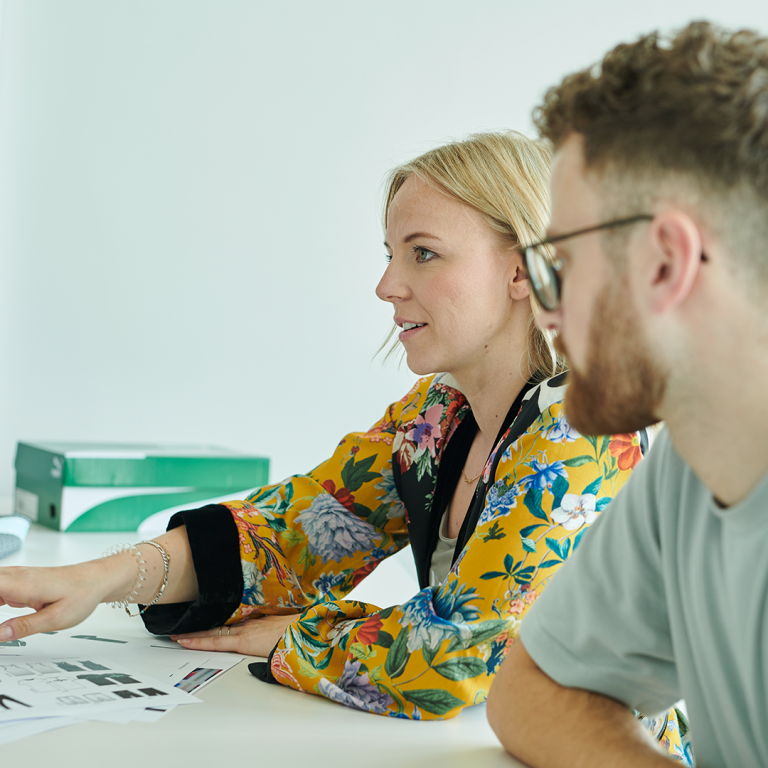 OUR DESIGN PRINCIPLES
Our principles help us making the right decisions in fulfilling our commitment to the athlete and consumer, while helping to ensure what we do is unmistakably PUMA.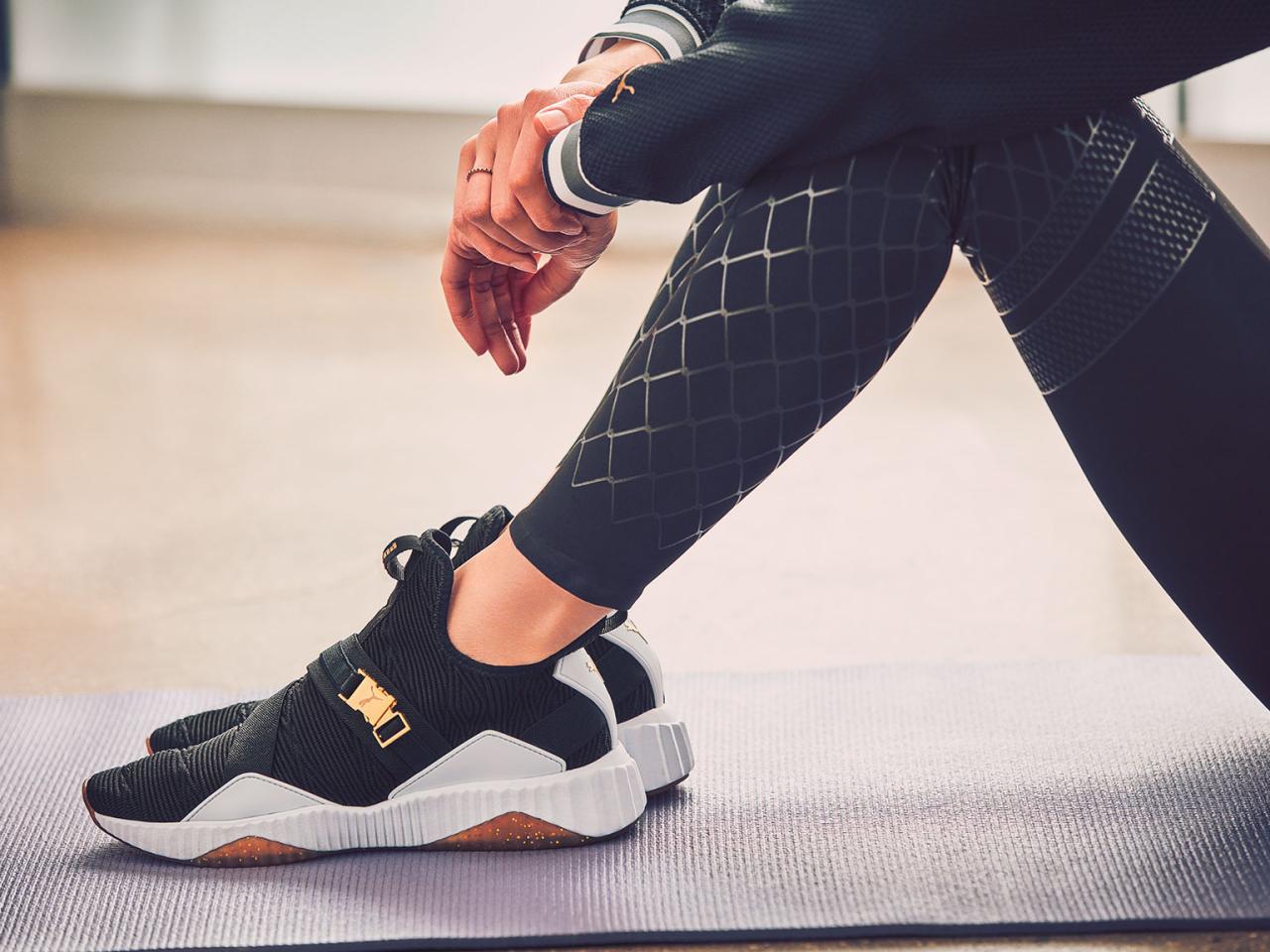 KEEP IT SIMPLE
Simple means distilling a concept down to its essential elements. Form and graphics are used to create the iconic character. Less often is more.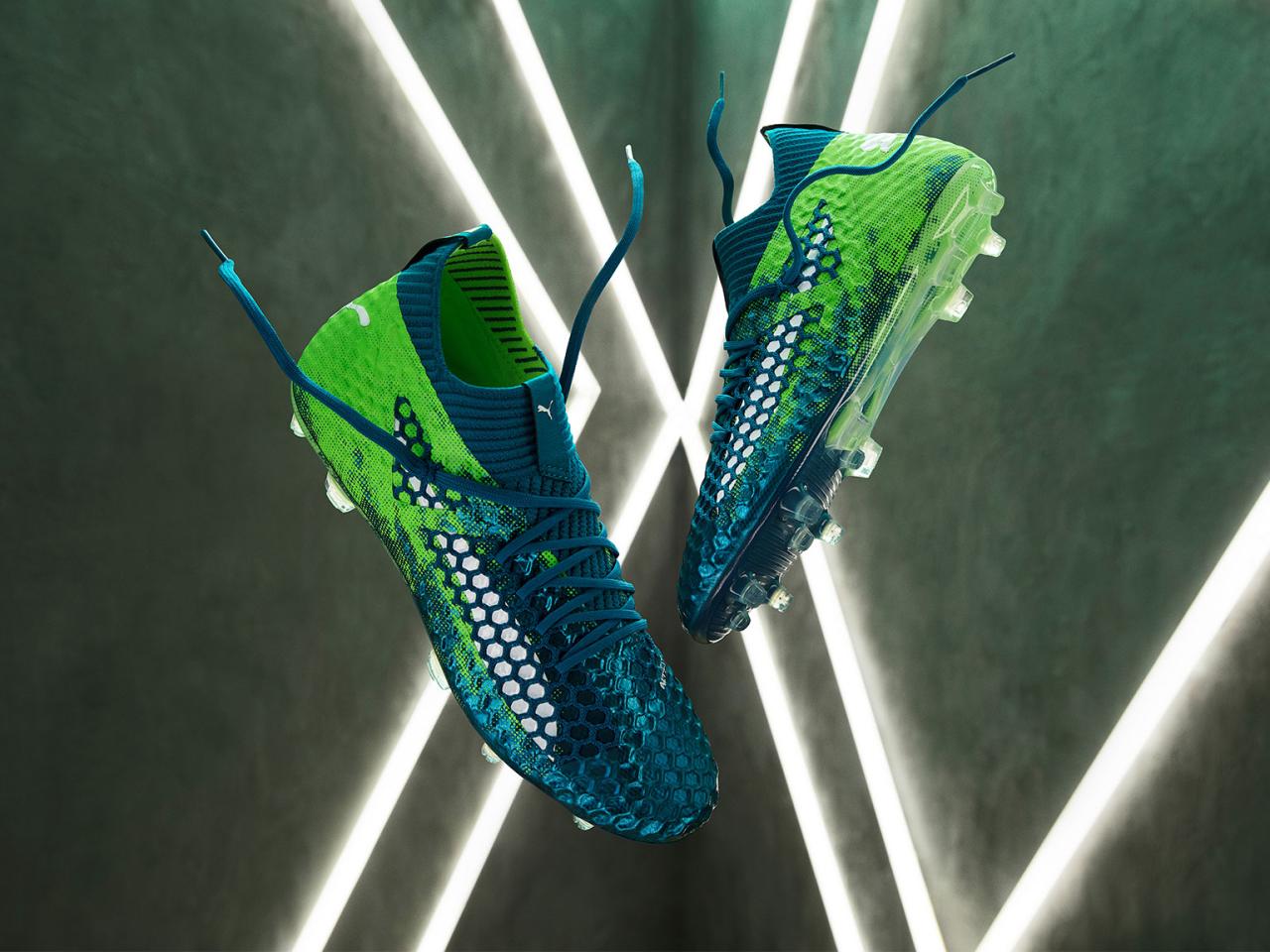 MAKE IT POWERFUL
Powerful design makes a statement by its very existence. It is made of deep and undeniably strong ideas. Its functional elements resonate, stir emotion, stand out and demand attention.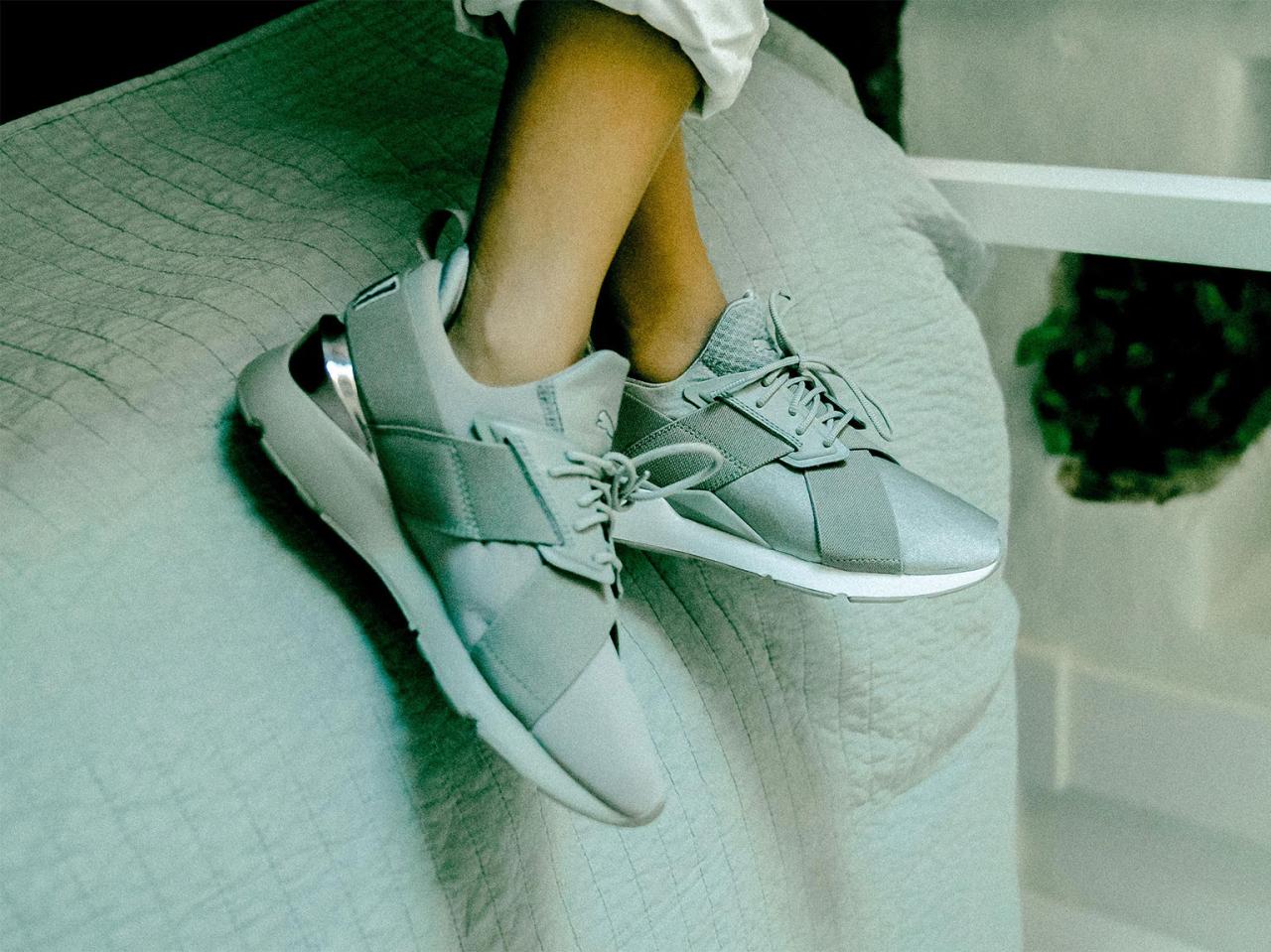 CREATE SOMETHING RELEVANT
Relevant design has a pure benefit for its athletes and consumers. Its ability to meet performance needs, stylistic needs or both makes it truly desirable.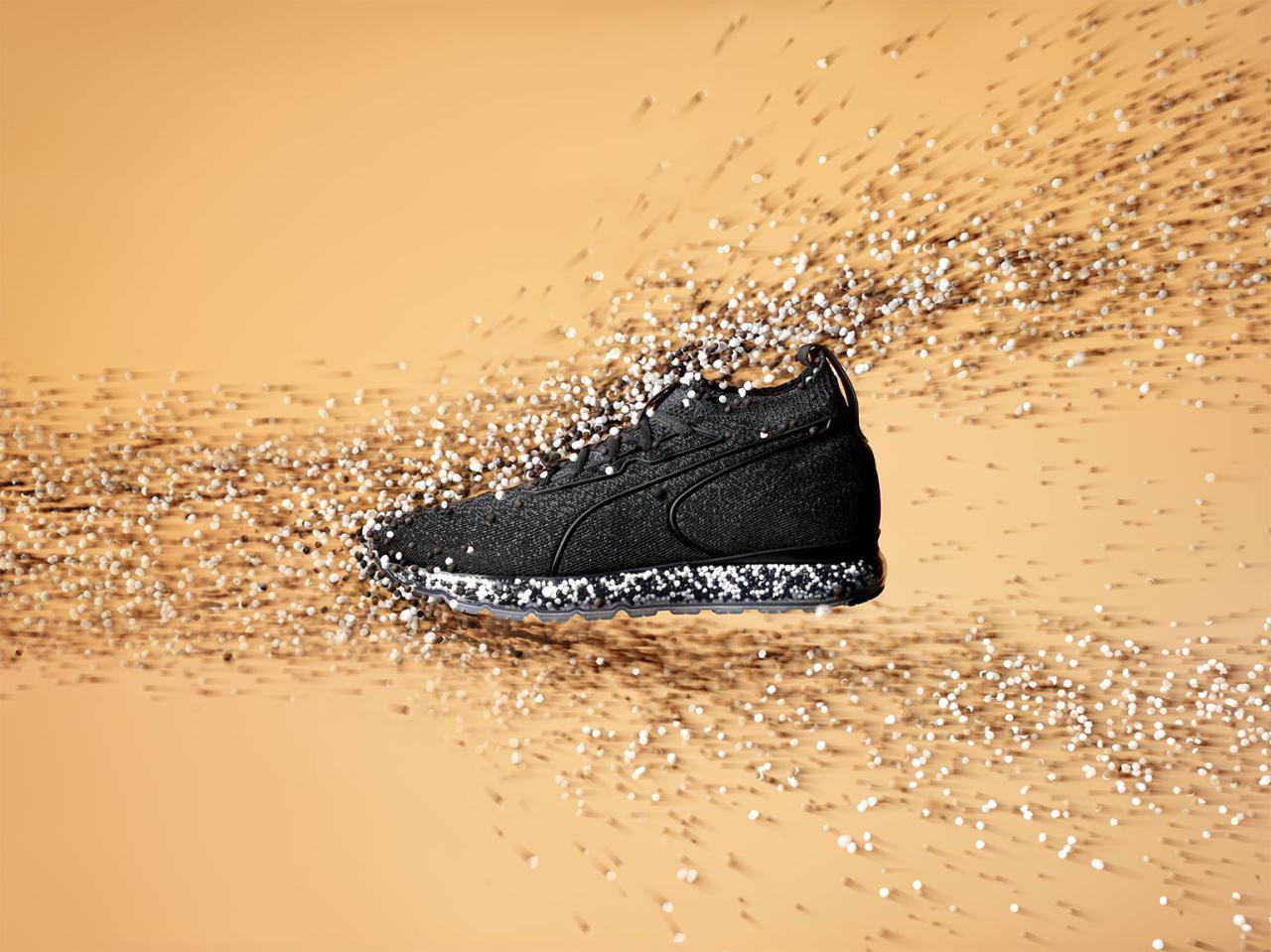 BE COURAGEOUS
Courageous design imagines beyond the brief and persists in the midst of opposition. It trusts creative instinct in fearless pursuit of fresh ideas.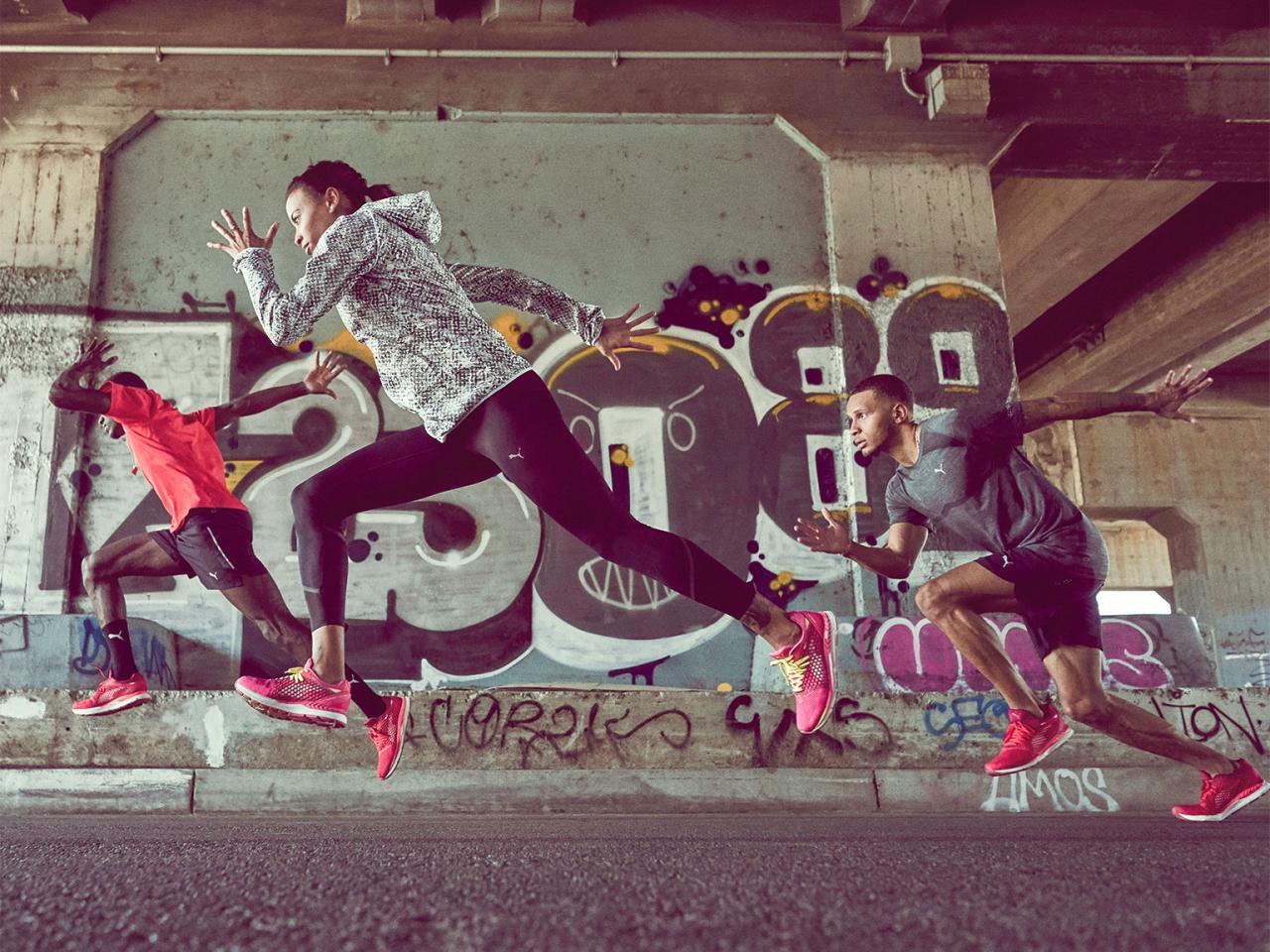 MAKE IT FAST
Strive to be Forever Faster. Evoke speed. Be it through streamlined graphics, aerodynamic structure, fast function, or by staying ahead of styling trends.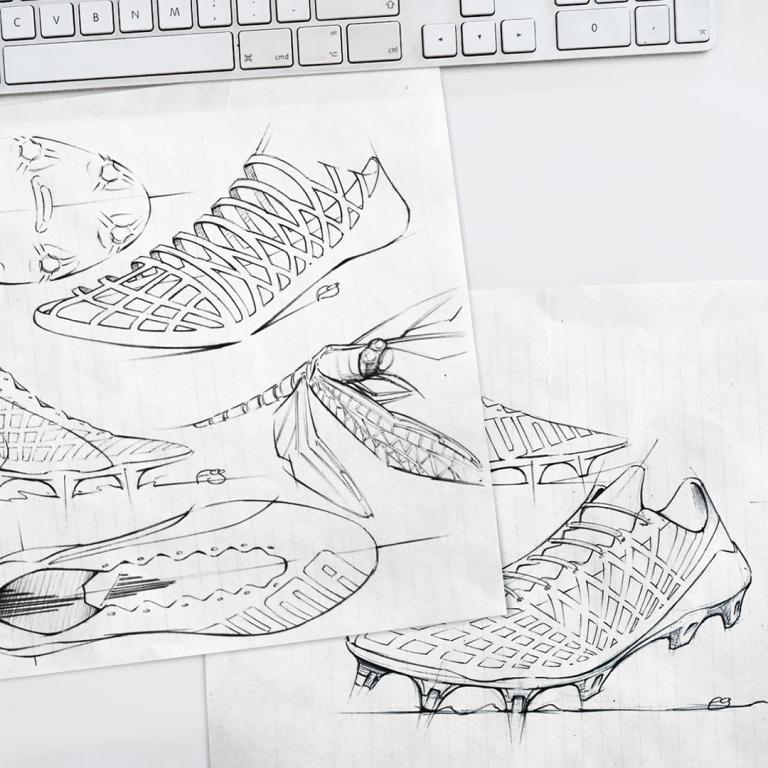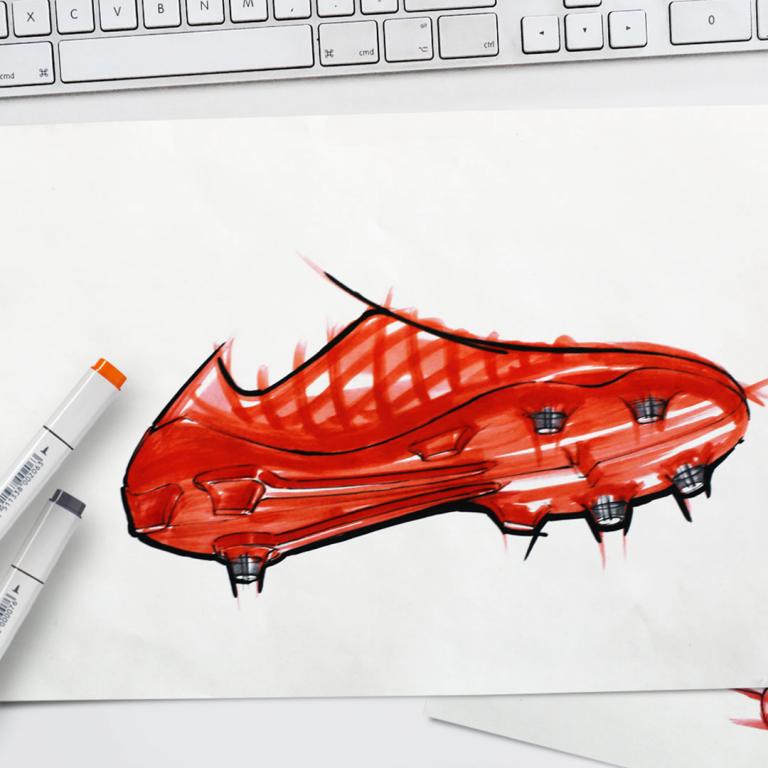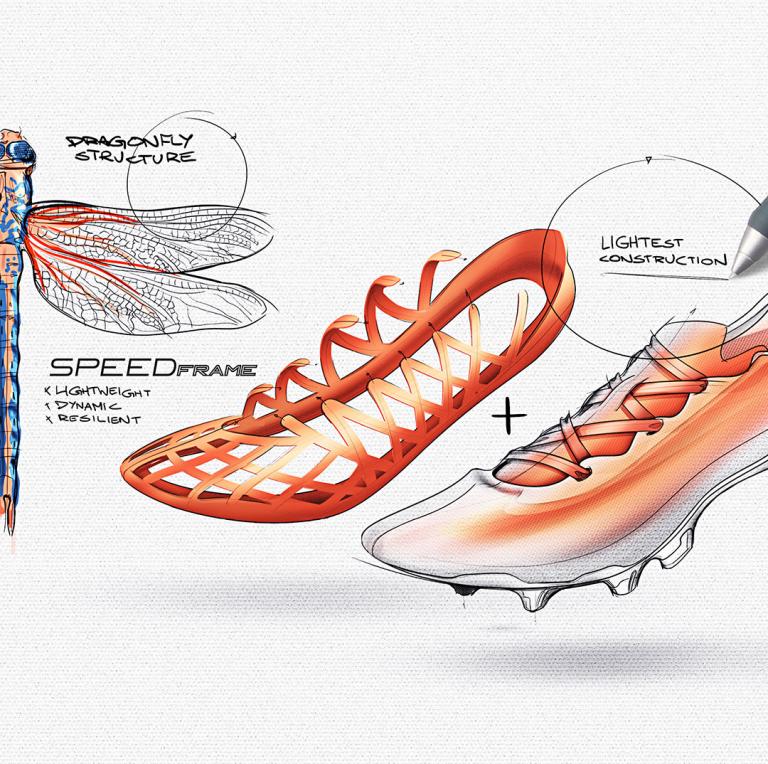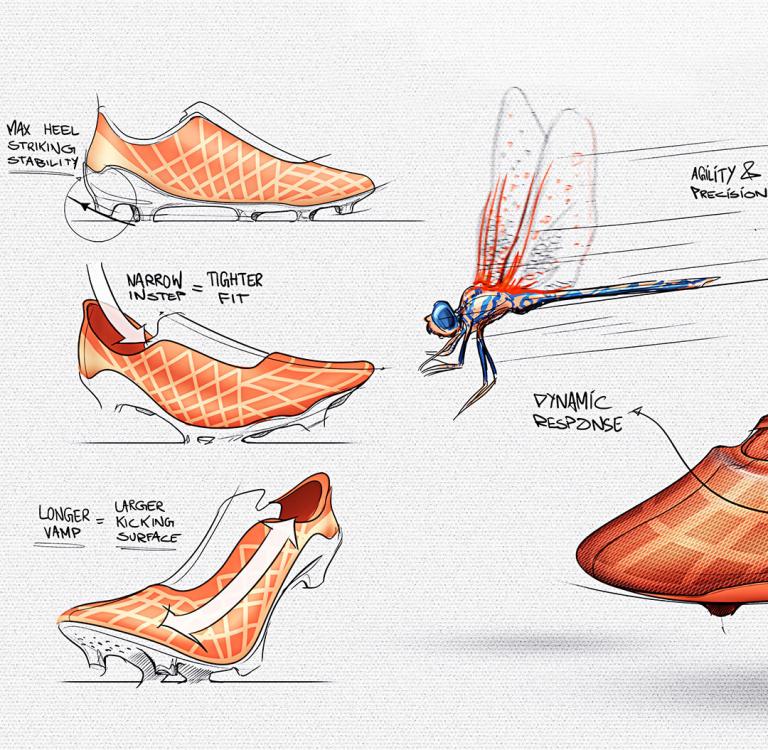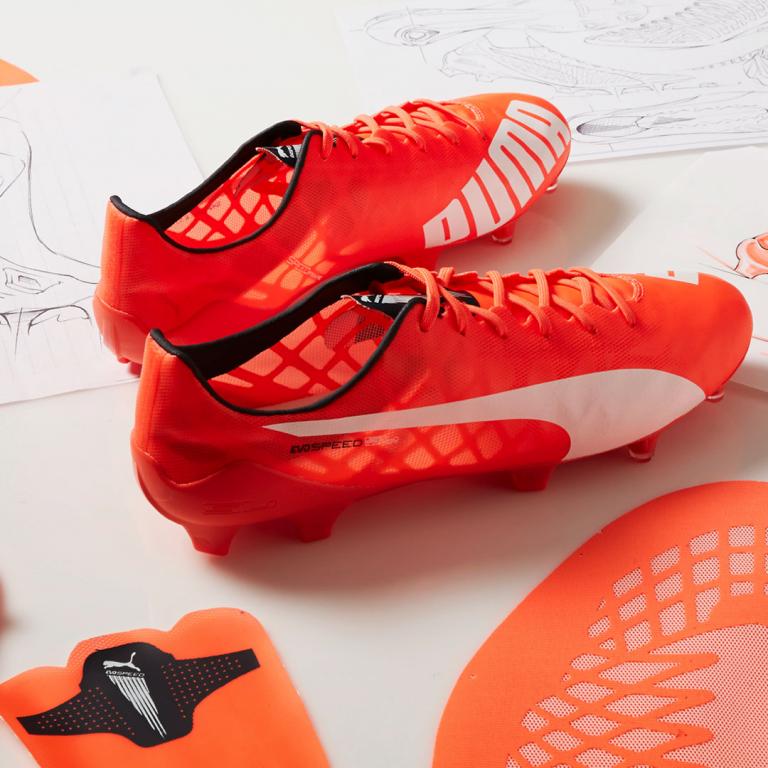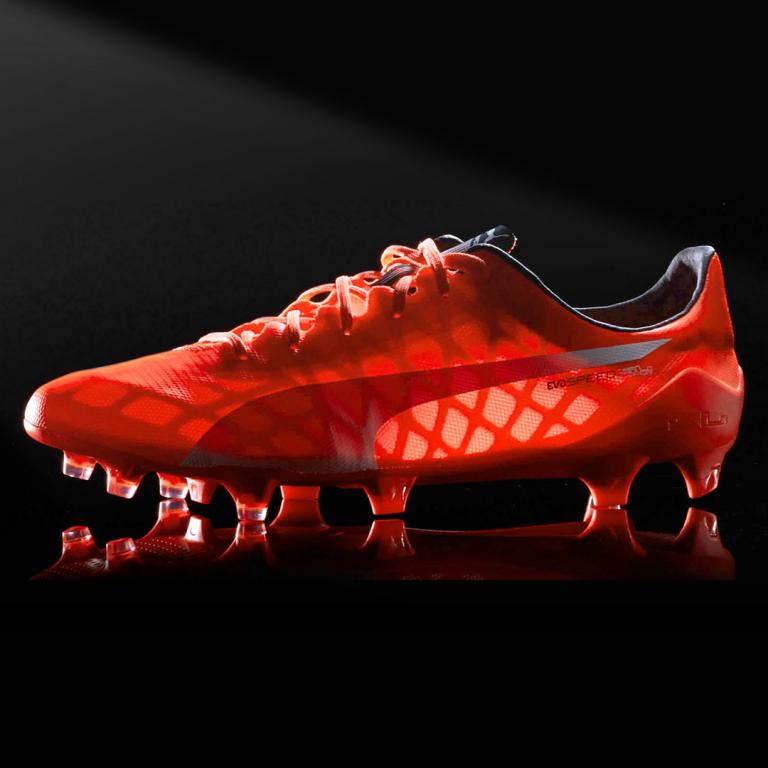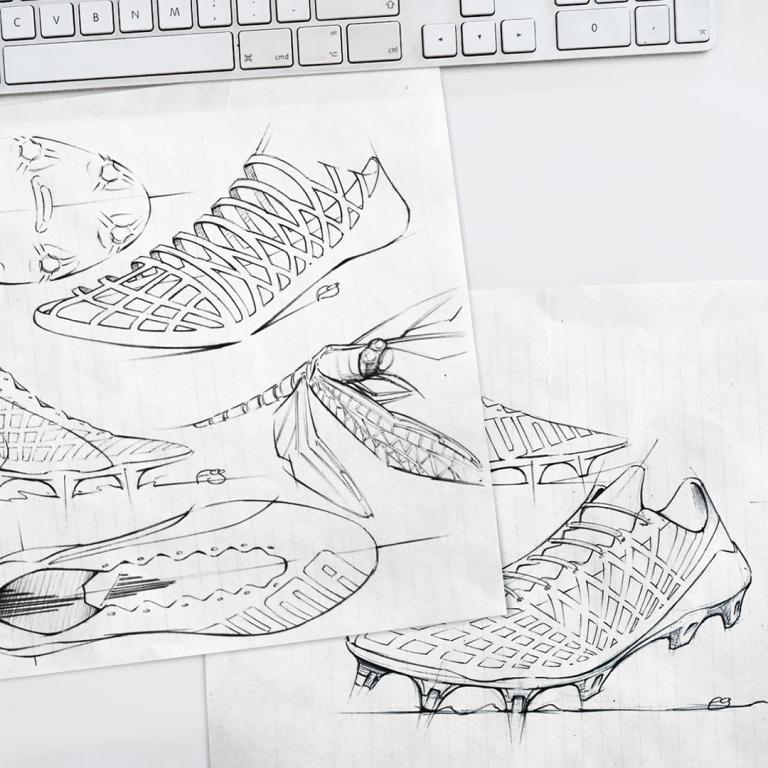 BRIEFING
Am Anfang jedes herausragenden Designs steht der Brief, also die Darstellung des Problems eines Athleten oder Kunden und der entsprechenden Lösungsvorschläge. Das Ziel beim evoSPEED war zum Beispiel, den leichtesten Fußballschuh der Welt zu entwickeln, ohne Kompromisse bei PUMAs bewährter Leistungskraft und Strapazierfähigkeit einzugehen.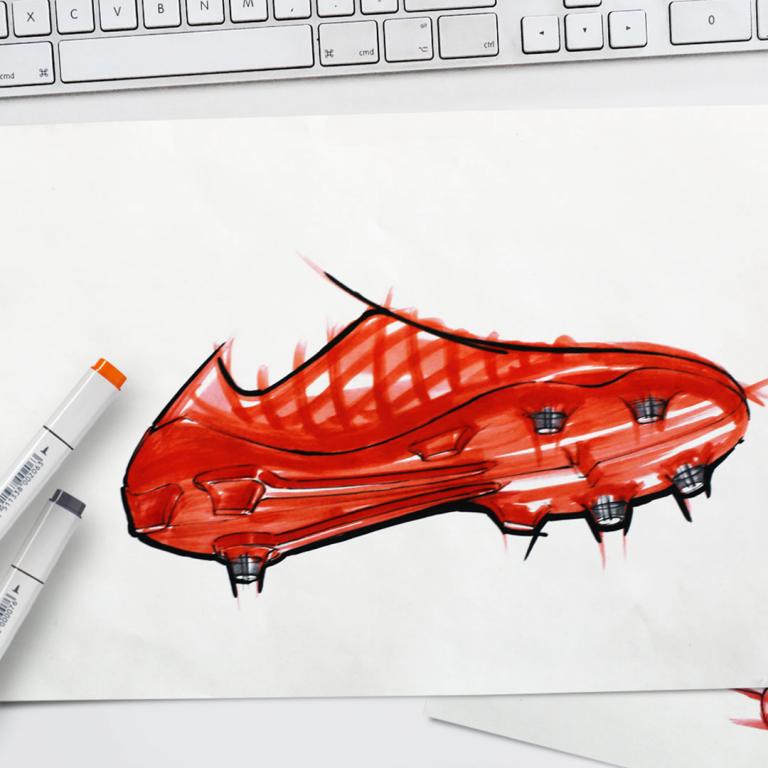 ERSTE ENTWÜRFE
Unser Design ist durch und durch PUMA. Für den evoSPEED haben wir recherchiert, wie unsere Designgrundsätze in der Natur umgesetzt werden. Inspiriert hat uns letztlich die Libelle: Sie ist leicht, schnell und kraftvoll. Insbesondere ihre transparenten Flügel und ihre Farben haben uns überzeugt.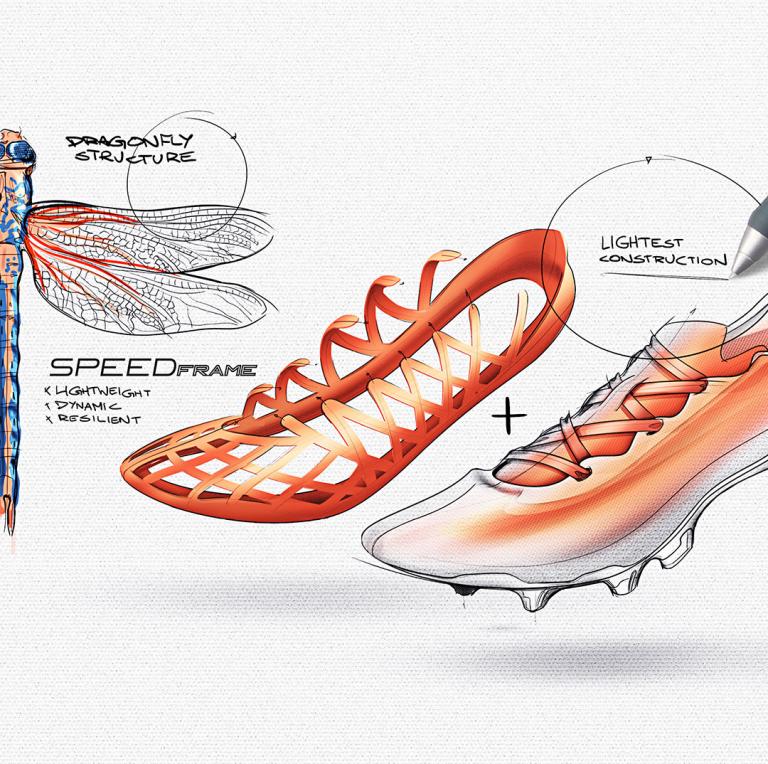 IDEEN-ENTWICKLUNG
Beim Gestalten unserer Produkte lassen wir auch den Aspekt der Produzierbarkeit nicht außer Acht. Für den evoSPEED machten wir uns auf die Suche nach dem Material mit dem geringsten Gewicht, das sowohl robust als auch transparent ist, wie die Flügel der Libelle. Im Team mit unseren Entwicklern gehen wir immer neue Wege, um ans Ziel zu kommen.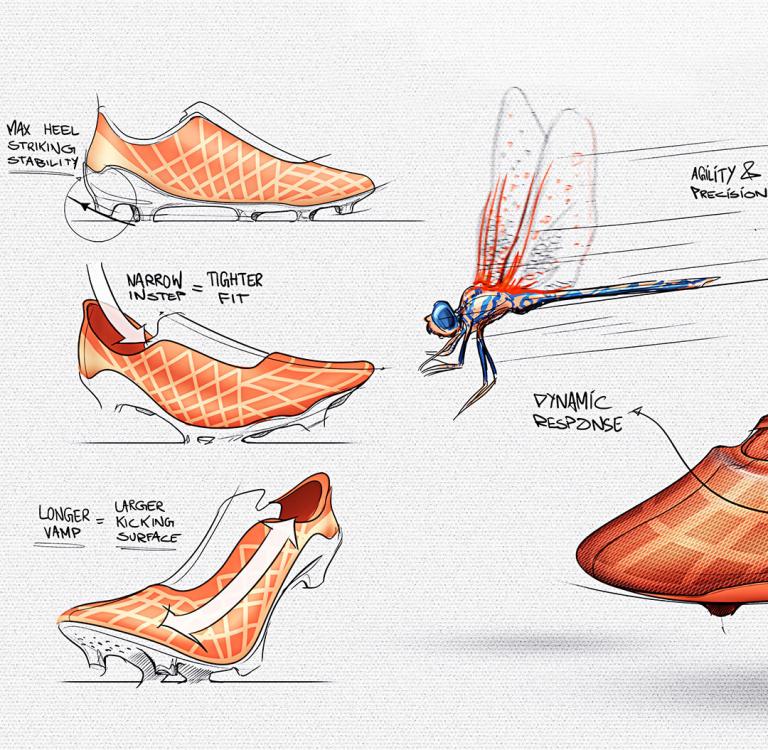 PRÄSENTATION
Um anderen unsere Ideen näherzubringen, müssen wir klar kommunizieren. Wir erläutern, welche Entscheidungen wir warum getroffen haben und wodurch unser Design inspiriert wurde. Auf Basis dieser Informationen können wir dann Unterstützung oder Feedback einfordern.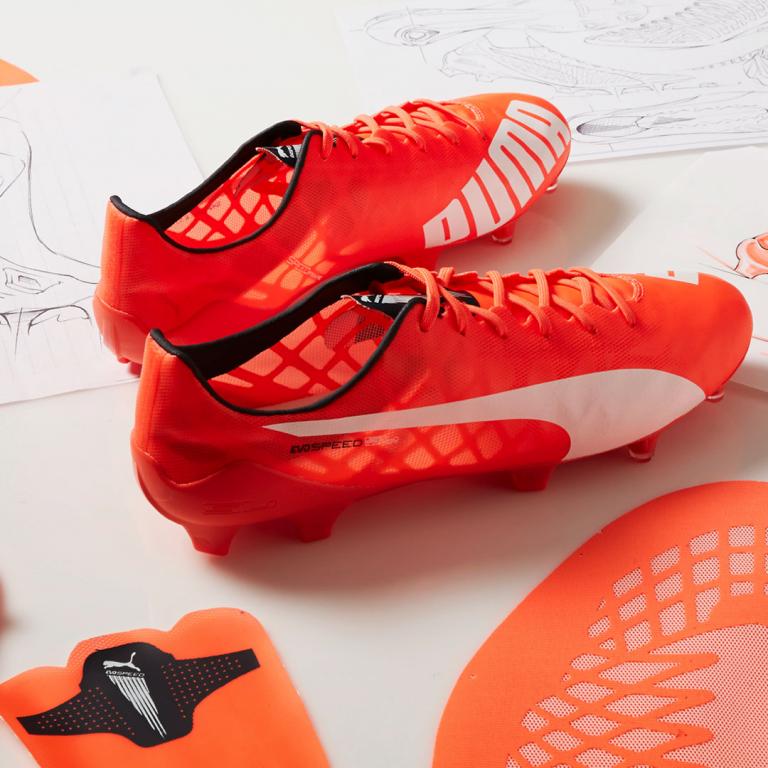 TESTS UND OPTIMIERUNG
Während des gesamten Designprozesses testen wir das Produkt gewissenhaft und überprüfen Funktion und Haptik anhand unserer Designgrundsätze. Wenn nötig, nehmen wir Änderungen vor; auch hierbei arbeiten wir mit anderen Abteilungen zusammen, um sicherzustellen, dass das Produkt den Kundenbedürfnissen entspricht.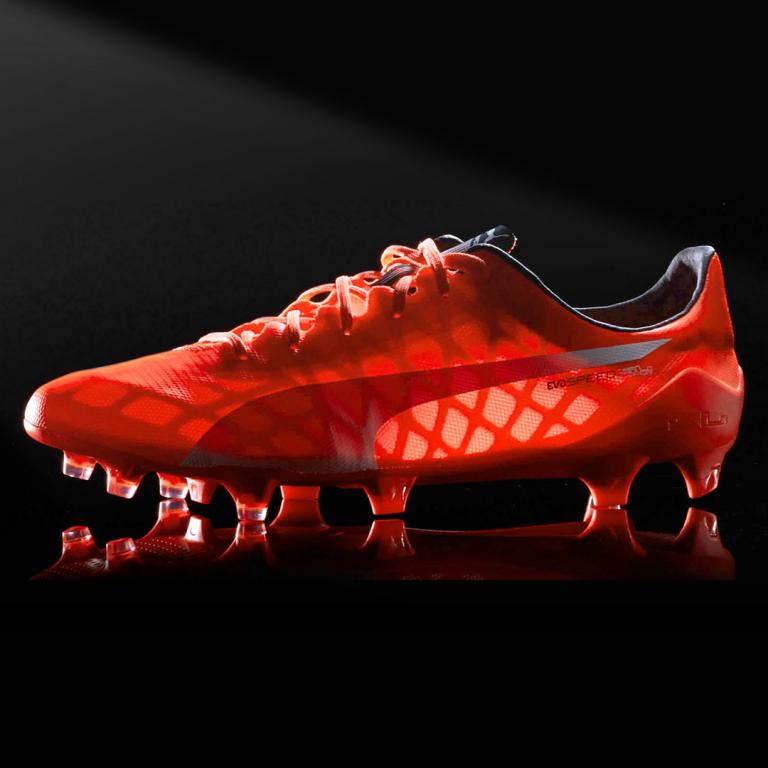 DAS PRODUKT
In Zusammenarbeit mit Product Line Managern, Entwicklern und anderen Designern entstehen Produkte, die nicht nur unsere Designgrundsätze tragen und vermitteln, sondern auch den Anforderungen unserer Kunden gerecht werden. Der evoSPEED vereint all diese Aspekte und ist daher durch und durch PUMA.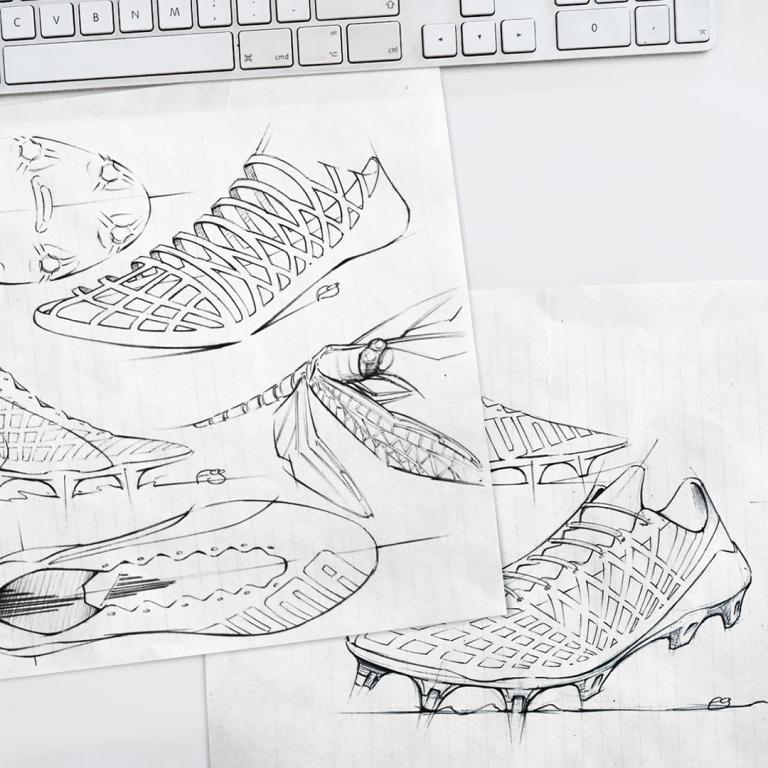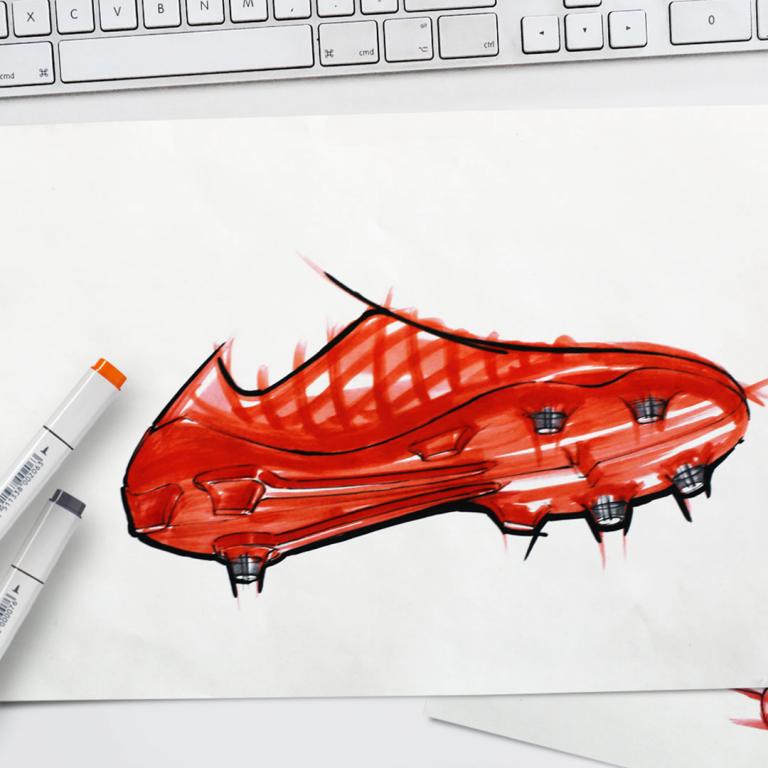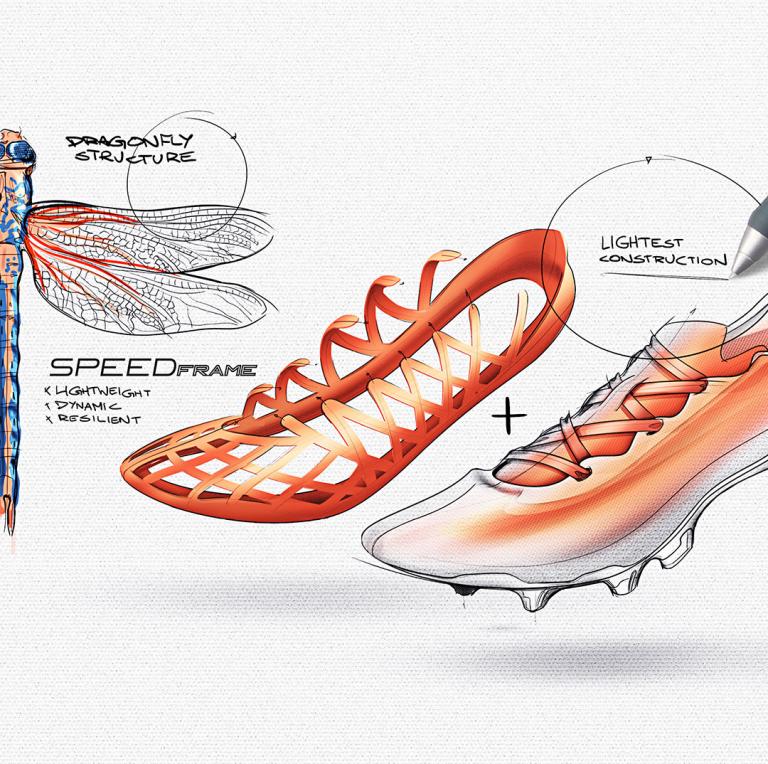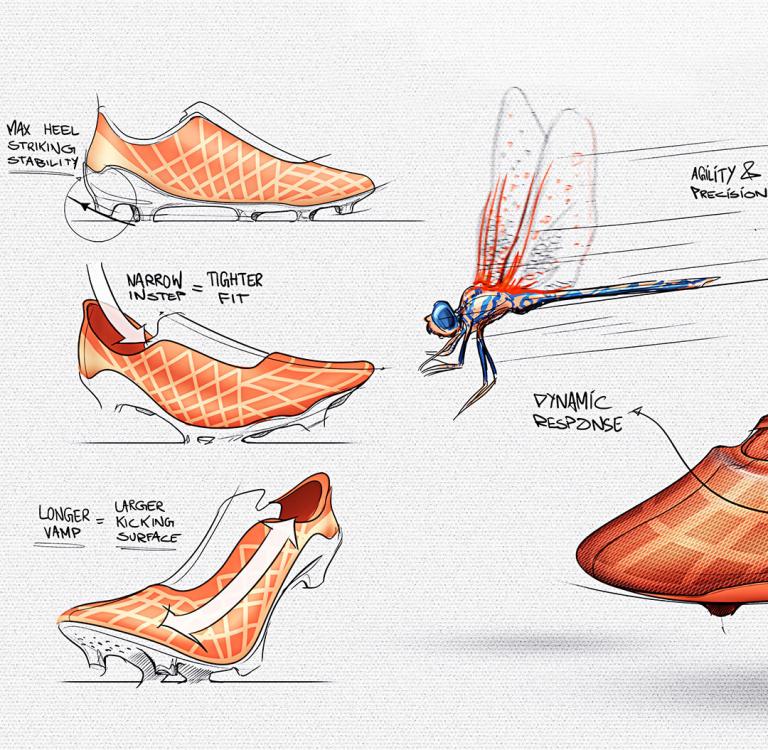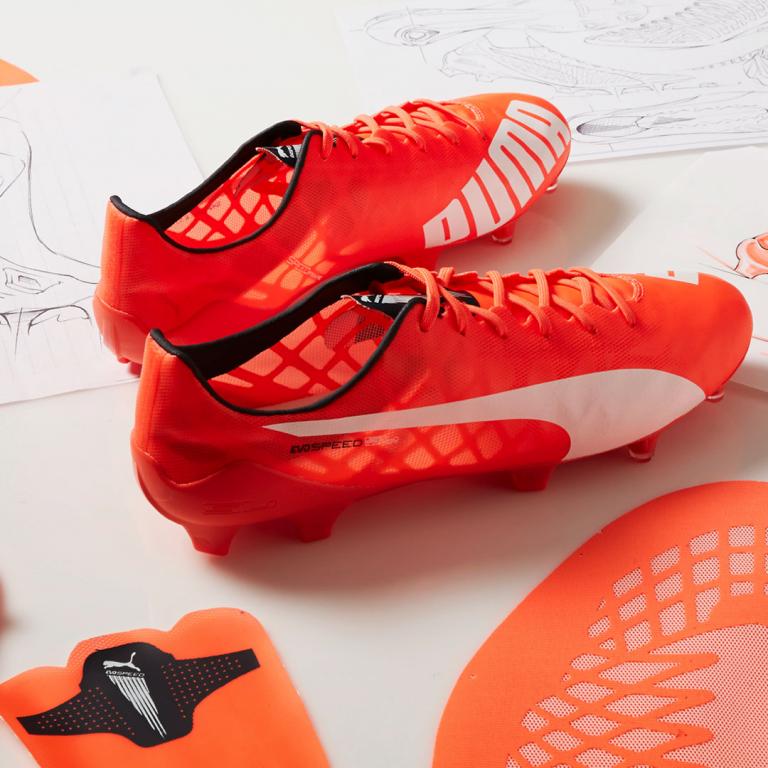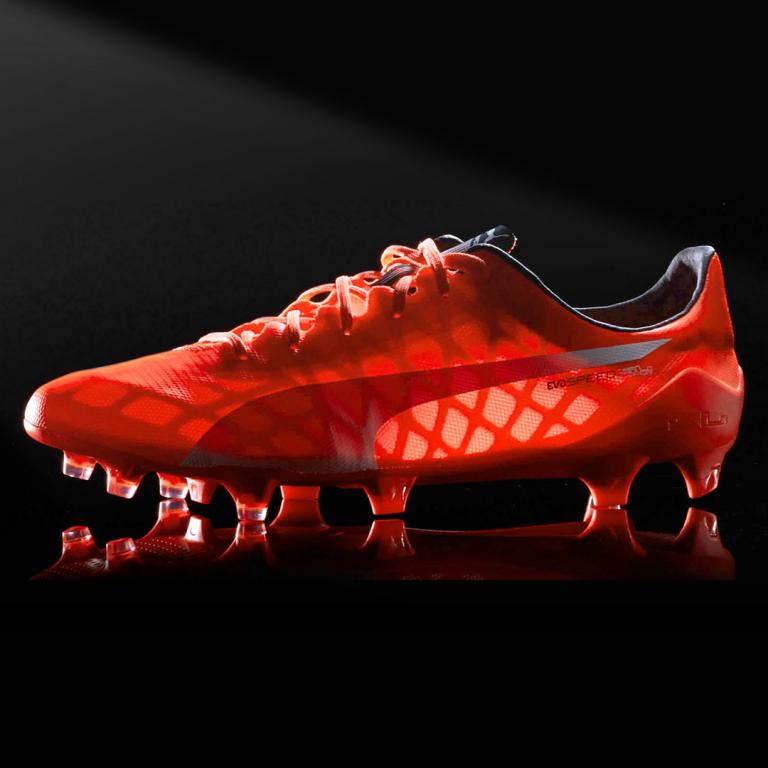 OUR CULTURE
CURIOSITY TO QUESTION.
EMPATHY TO UNDERSTAND.
COMMITMENT TO CHALLENGE.
CREATIVITY TO SOLVE.