"I think along all these 75 years, one thing which has not changed at PUMA is the purpose," said PUMA CEO Arne Freundt. "We are here to write the future history of sports and culture."
The world's fastest man, Usain Bolt, was joined on stage by other PUMA legends at the company's headquarters in Herzogenaurach, Germany, to talk about the highlights of their careers and how they worked together with the brand to write sports history: six-time Grand Slam winner Boris Becker, 1991 FIFA World Footballer of the Year Lothar Matthäus, NBA Hall of Fame inductee Ralph Sampson as well as track and field World Champions Linford Christie, Heike Drechsler, Armand "Mondo" Duplantis, Colin Jackson, Merlene Ottey and Yaroslava Mahuchikh.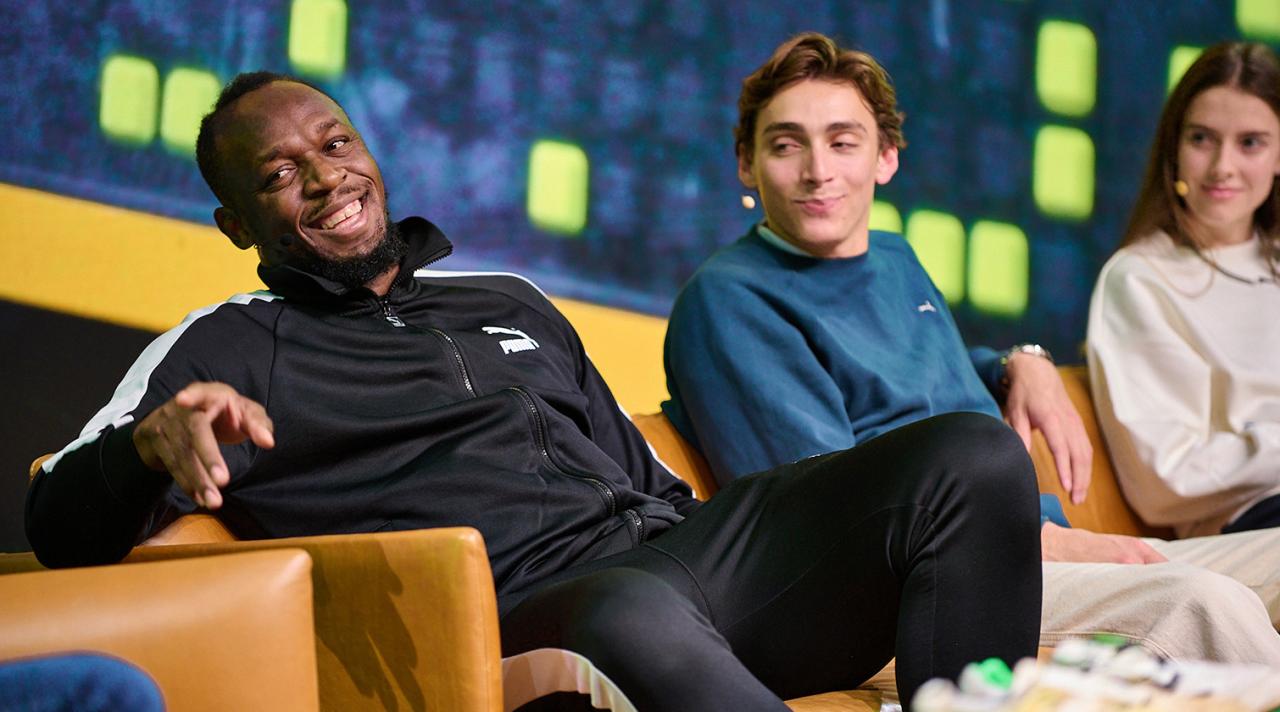 "Success came from what happened in the background, the training, the dedication and the sacrifice that you made. So that's where I put all the work," said Usain Bolt "But when I competed, I enjoyed it. I was going out there to perform, not just going out there and run. And I think I kind of changed the game by just showing people, you can relax, you can enjoy what you do."
Boris Becker, who won his first Wimbledon title at the age of 17, reflected on what it was like to be so successful at such a young age.
"The beauty of youth is you're too young to know that you're not supposed to win. But you feel that people look at you differently. In the morning, you go to the locker room and the guys stare, like you're some guy from from Mars, because you're so young. So it really changed my life in a dramatic fashion," Becker said.
Merlene Ottey also started her career at a young age but competed on an international level well into her 50s. She told the audience that it was the love for the sport that kept her going.
"I loved what I was doing. When you have that passion, you are mentally ready for any challenge. You're up for it. And I'm not one to take a defeat sitting down. I would always fight back for the next time," she said.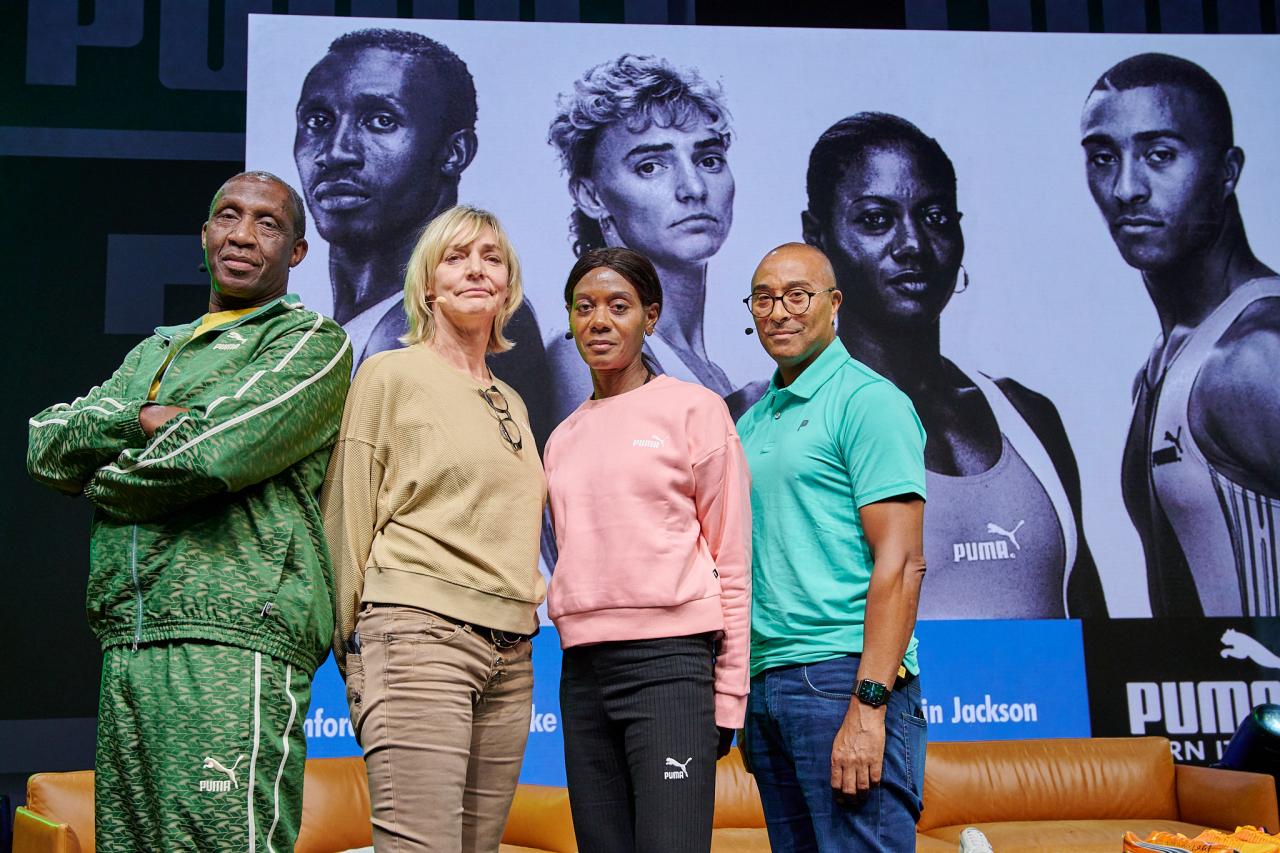 PUMA Founder Rudolf Dassler had the vision to create products which would give his athletes the agility and performance of a big cat. From the spikes that helped PUMA's track and field athletes win titles and set records, to the tennis rackets 17-year-old Boris Becker used to conquer Wimbledon, or the football boots in which legendary players such as Lothar Matthäus played: PUMA has stood by this vision for 75 years.
"Normal shoes were not good for the long jump as they were very unstable. I worked together with PUMA, gave some feedback and they created a really good shoe. This helped me a lot," said Heike Drechsler, who took Olympic Gold in the long jump in 1992 and 2000.
 
Throughout its history, PUMA established a culture of firsts to help athletes peform at the highest level with innovative designs such as the first football boot with screw-in studs in 1952, the legendary brush spike of 1968, the pioneering RS-Computer Shoe in 1986, the first laceless sports shoe DISC in 1991 or, most recently, PUMA's state of the art foam technology NITRO for running shoes.
OTHER QUOTES FROM THE EVENT
On a winning mindset:
Ralph Sampson: "The expectations were high, but mine were higher. I wanted to be good. And I made my first All-Star game in my rookie season and the rest of it came three or four years later. Then I became the Most Valuable Player in All Star Game and went to the finals and all that good stuff as well. Even today, all my expectations are very high. So no matter what it is, it's still at that level."
Yaroslava Mahuchikh: "Every centimeter is important and it's really difficult to improve. But of course, I have the goal to set a new world record and of course I have the goal to win the gold medal at the Olympic Games."
Armand "Mondo" Duplantis: "I can't remember life before pole vaulting. I think because there basically wasn't any, I guess. My father was a professional pole vaulter and he built an entire pole vault set up in our backyard down in Louisiana. I wasn't forced to, but it was in your face. It's like you don't have to, but you kind of have to. You have to at least try. So I was pretty good from a very young age. Now everything just seems to be coming together in such a nice way that I'll stay on this path, keep doing what I'm doing. I know that I have a lot higher bars in me, so I just keep doing it."
Linford Christie: "Everything I have won I'm proud of. The tougher the race, the more you enjoy it, because they say the hotter the battle, the sweeter the victory. Sometimes you have to lose to appreciate what it's like to win and how you love the feeling of winning. Because losing is not a good feeling, but you need it because it keeps you going."
On their relationship with PUMA
Colin Jackson –" Over the years, I've just seen a very youthful, positive attitude. I think that's continued from our day and that's really lovely to see. And I guess that's why we talk about a family situation, that is why the family gives you that sense of warmth. You're there. It's camaraderie. There's nobody who's bigger than everybody. We're all in this together. And I think that is so, so magical about the PUMA brand."
Lothar Matthäus: "It was always special for me, because I was growing up with PUMA. My father was working for PUMA. He opened the factory in the morning, and he was the last to leave. And I was living next to the factory in the neighbouring building. This means the PUMA office and my bedroom were 20m away from each other. I always had the best shoes The PUMA KING was a fantastic shoe. When I played it it, it was very soft and I felt comfortable. And the most important? I scored a lot of goals. That's why this was the best shoe ever."