THE STORY OF THE PUMA SLIPSTREAM
The first model of the SLIPSTREAM was a basketball shoe born in 1987 as a successor to the SKY LX. It became an iconic sneaker silhouette, favored by basketball players on the courts for its performance, stability and cushioning. Off-court, it made its way to the streets, finding a following among sneaker connoisseurs and the subculture generation of hip-hop dance crews for its unique design.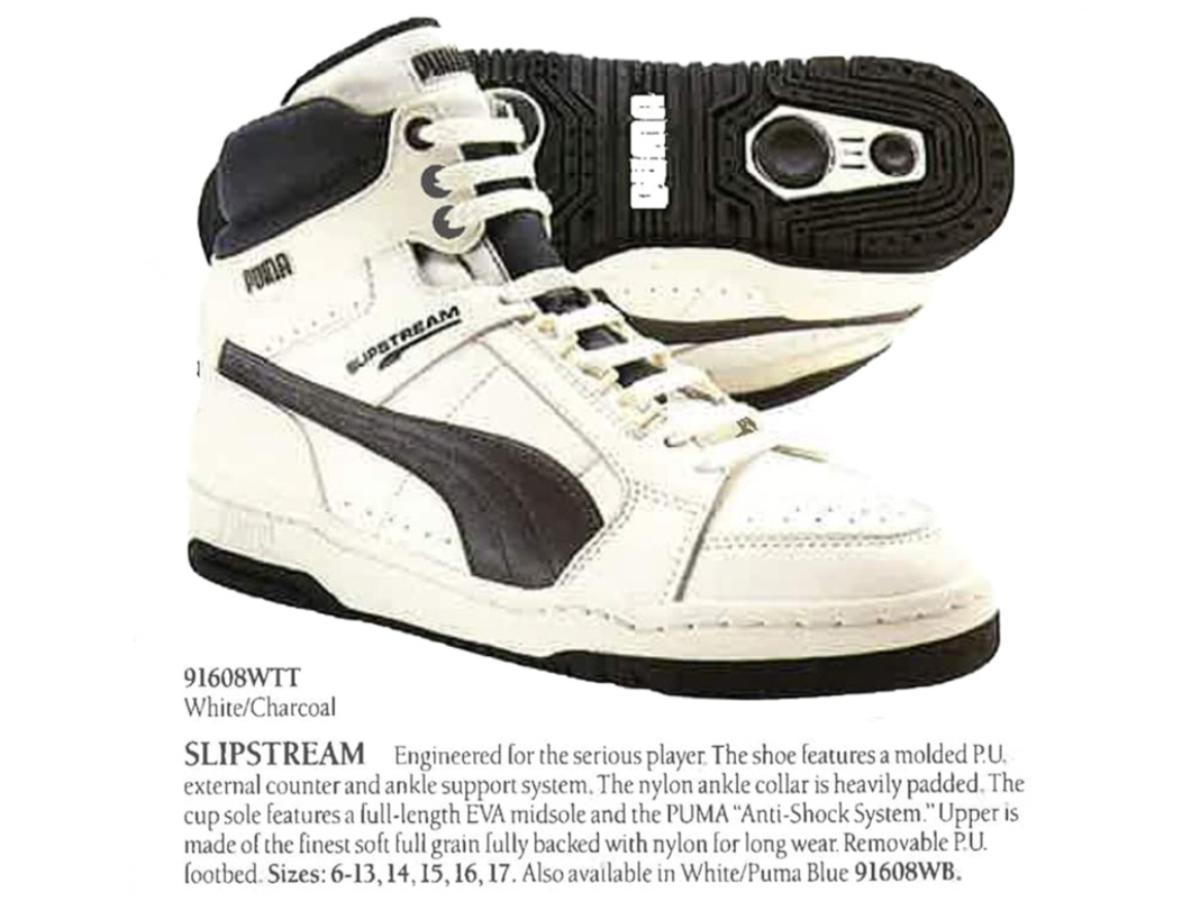 SLIPSTREAM DEBUT - 1987
The simple basketball shoe with a white base and charcoal gray color scheme was equipped with the "ANTI SHOCK SYSTEM". It was sold as a college basketball shoe to match the school's program colors. Given its growing popularity, in 1988, the Slipstream was available in multiple colors. Since basketball shoes were becoming more fashionable at this time, lifestyle models such as THE BEAST and SLIPSTREAM SNAKE were also released. PUMA pioneered the lifestyle space with the two styles, using material embellishments like faux snakeskin, leather and faux fur.
"Today the '80s basketball style is very trend relevant. The clean canvas lends itself well to additional executions and storytelling. The key to a timeless design is making sure it is accessible and not the most complicated or unique item out there. It has to be driven by culture, not by hype."
Jan Kessel - Global Product Line Manager Sportstyle Footwear Select / Special Projects
SLIPSTREAM REVIVAL - 2002
After a long hiatus the Slipstream was re-issued in 2002 with a return of the THE BEAST and SLIPSTREAM SNAKE. It was particularly successful in the Japanese market, later leading to a Made in Japan version of the style.
SLIPPING INTO THE FUTURE - 2021
In 2021, the shoe was re-issued for today's consumer, staying true to its 1980s basketball heritage. One of the first to debut for the launch, THE BEAUTY AND THE BEAST pack is a reference to the Japanese iterations of THE BEAST in the past. The modern designs take a new play on the beast name and pay homage to the storybook tale – the inspiration is clear throughout, playing with key elements that allude back to the menacing beast and the charming beauty.